I would like to describe a couple of tools which I use to create, release and promote my blog posts. If you already are a technical blogger, or maybe still only thinking about setting up your place on the internet, you might find some valuable tips for your own toolkit.
jekyll template optimized for SEO
I use jekyll based pixyll template for my blog.
So far I've customized the original template quite a lot, mostly in terms of SEO. I would like to share it for free. Click the below link to read the details:
Looks like all the SEO tricks I applied started paying off. Recently I've noticed that most of the traffic comes from organic Google search results: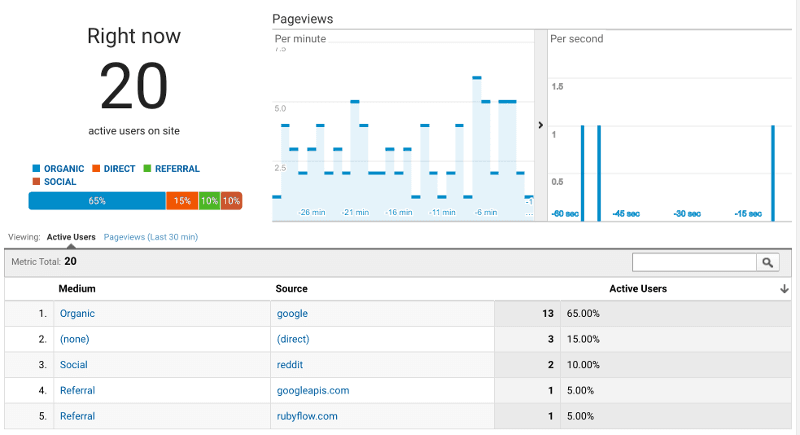 My "ponglish"
I am a decent English speaker, working with it on a daily basis for a couple of years so far. Unfortunately, writing for a wider public is a bit different, and more stressful than communicating with your colleagues.
When I began blogging, I was sending my posts to professional correction to avoid shameful errors. It turned out to be too expensive once I started publishing something new every week. Revision of a medium length post costs around 15€.
Now I am using Grammarly and have been happy with it for a while. Even a free version lets you avoid a lot of mistakes, e.g. punctuation and prepositions.
My favorite feature of a pro version is that you can double click every single word to bring up a list of its synonyms. It is a great way to expand your vocabulary: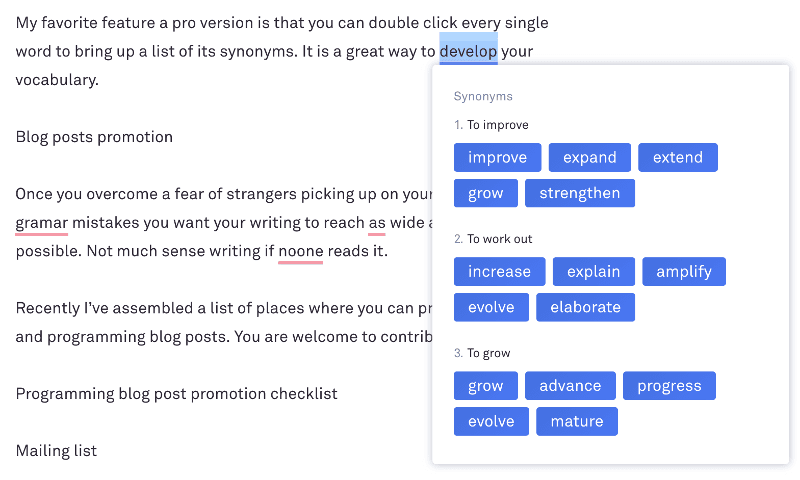 Blog posts promotion
Once you overcome a fear of strangers picking up on your punctuation and grammar mistakes you want your writing to reach an audience as wide as possible. Not much sense writing if no one reads it.
Recently I've assembled a list of places where you can promote technical and programming blog posts. You are welcome to contribute to it:
Programming blog post promotion
Images
I always add an image to a blog post. There are studies which indicate that posts containing media are more attractive to visitors. Also, together with proper Open Graph meta tags, an image can make your posts stand out when shared on social media. You can check my other blog post for more info about meta tags for bloggers.
I usually visit two places to find an image appropriate for a given post:
95% of cases I can find what I need there. Most of the images are free, even for commercial use, and don't require attribution.
Maybe I am a little paranoid, but I always keep a license screenshot just in case.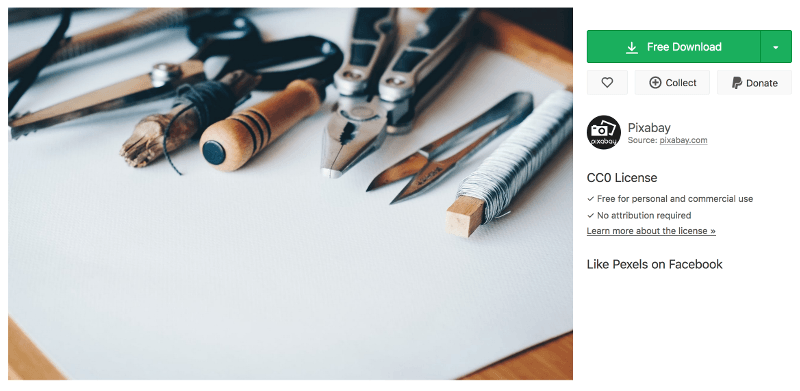 Always remember first to resize your picture to required resolution and then compress it using compressor.io. If you do it in a different order picture might lose quality.
Mailing list
I am currently working on growing my mailing list. MailChimp free version lets you manage a mailing list of up to 2,000 subscribers and 12,000 emails a month. I am sure that if I ever manage to grow my mailing list over that limits, I would be able to afford the paid version.
Adding a subscription box is as simple as copy-pasting a bit of HTML code. Just to remind you, this blog is a static website, so you don't need a server infrastructure to run your mailing list.
Summary
I hope that you will find some of those tools useful for your own blog. Let me know if you know other free or paid tools which come in handy when running a blog.